BUSINESS APPOINTMENTS
THE 10th MEDICAL TOURISM CONGRESS COZUMEL 2019 is an event that is specialized and focused on B2B meetings
0
MEDICAL TOURISM FACILITATORS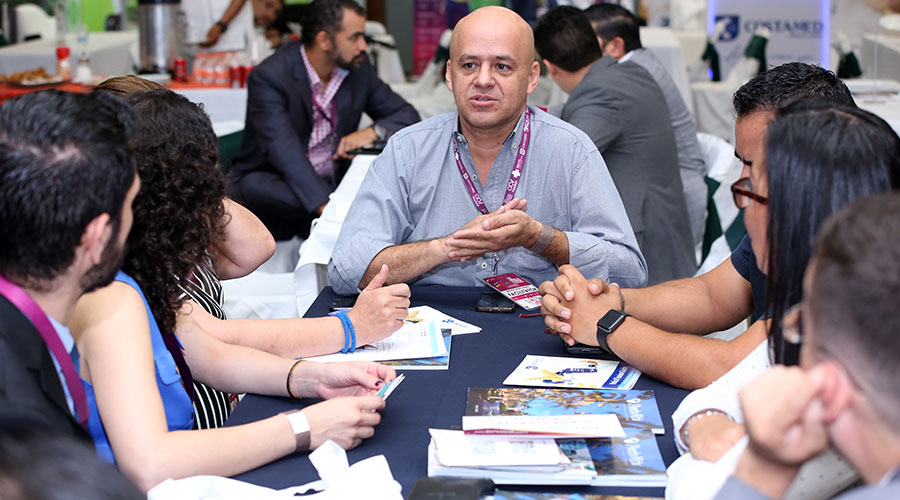 Exhibitors and doctors with different specialties are guaranteed up to 20 individual appointments during the two days of the event.
The business appointments are with Insurers, Brokers, Travel Agents and Medical Financing Companies that are in the Medical Tourism business.
Business meetings between exhibitors, medical specialists and buyers will be sent and confirmed from 10 to 5 days prior to the Congress.
BUSINESS APPOINTMENTS
The business appointments will be sent from 10 to 5 days prior to the Congress.
Only a maximum of 20 facilitators (buyers) from the United States, Canada and Mexico are allowed, due to the rigorous selection process with potential buyers of genuine quality.
Medical Tourism Facilitators receive profiles from the exhibitors or medical specialists days before the event.
FACILITATORS
Insurers, Brokers, Travel Agencies, Tour Operators, Corporate Employers, Medical Treatment Finance Companies.
The most important thing for the 10th MEDICAL TOURISM CONGRESS is the commitment to bringing true international buyers interested in sending their patients to Mexico. That is our success strategy: to generate great business!
Every year there are more Medical Tourism Facilitators from the United States Mexico and Canada interested in participating in the MEDICAL TOURISM CONGRESS with every intention of doing business in with hospitals, dental clinics, doctors' offices and tourist destinations.
Medical Tourism Facilitators, Insurance Companies, Travel Agencies and Brokers have found the competitive advantages Mexico offers, both in price and quality, make for excellent business.
To participate in the business meetings, just fill in the format that you can download with the button below, make the deposit and send your editable and high resolution logo to this email: carlos.arceo@hotmail.com