MEXICO, A WORLD CLASS DESTINATION FOR MEDICAL TOURISM
MÉXICO, UN DESTINO DE CLASE MUNDIAL PARA EL TURISMO MÉDICO
REALITY AND FORESIGHT
REALIDAD Y PROSPECTIVA
INTRODUCTION
Thousands of people leave the United States, Canada and countries of Europe every year in search of specialized medical treatments with costs that are usually restrictive in their countries of origin. In addition to the advantage of treatments at a lower cost, they are motivated by being cared for in a place with better conditions for their recovery: a warm or temperate climate, a wholesome environment, hospitality in the city that receives them and the friendliness of the people involved in their treatment.
On the global scene, the United States is both the principal country for receiving medical tourists who travel to Houston, New York or Los Angeles to receive specialized treatments, as well as the largest generator of medical tourists who travel to other parts of the world looking for attention of the same or higher quality than can be found in their public health system, with the advantage of being more economical with more personalized attention, where they are not just a statistic in a case file.
The development of communication in all its varieties has allowed North American patients to learn about the wide range of medical treatments they can access almost anywhere in the world. Europe, Southern Asia, Central and South America or Mexico are options for cardiology treatment, bariatric surgery, orthopedic rehabilitation or dental care, or any other specialty.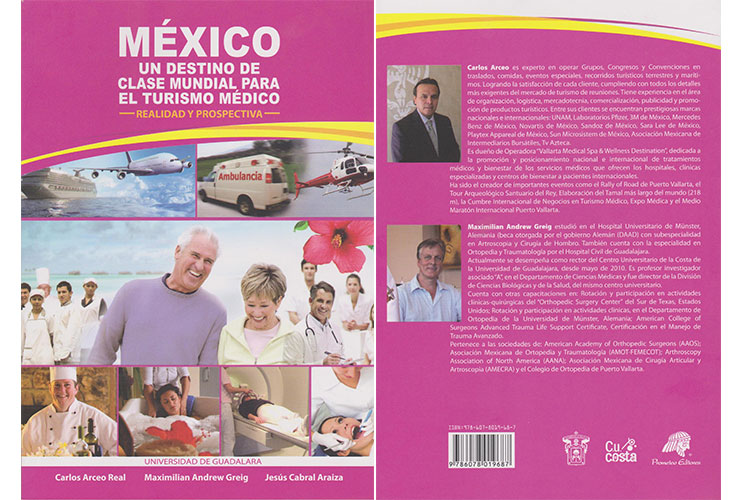 INTRODUCCIÓN
Cada año, miles de personas salen de los Estados Unidos, Canadá y países de Europa en busca de tratamientos médicos especializados, cuyos costos suelen ser restrictivos en sus países de origen, entre sus motivaciones, además de la ventaja de obtener tratamientos a un menor costo, se encuentran el ser atendidos en un lugar con mejores condiciones para su recuperación: con clima cálido o templado, un medio ambiente sano, hospitalidad en la ciudad que los recibe y amabilidad de la gente involucrada en su tratamiento.
En el panorama mundial, Estados Unidos es tanto el principal país que recibe turistas médicos que viajan a Houston, Nueva York o Los Ángeles para recibir tratamientos especializados, como el mayor emisor de turistas médicos que viajan a otras partes del mundo en busca de atención de la misma o mayor calidad que en su sistema público de salud, con la ventaja de tener costos más económicos y una atención más humana, más allá del número del expediente que representan para el sistema de salud norteamericano.
El desarrollo de las comunicaciones en todo sentido ha permitido que los pacientes norteamericanos conozcan la amplia oferta de tratamientos médicos a los que pueden acceder en casi cualquier parte del mundo. En Europa, el sur de Asia, Centro y Sudamérica o México encuentran opciones para seguir un tratamiento de cardiología, una cirugía bariátrica, una rehabilitación ortopédica o dental, o cualquier otra especialidad.